Now that I have gotten things off the ground, I figure that those who don't know me from other sites might be wondering why I am here, and what I am trying to accomplish.
Here is a survey of sorts, just so that you can all know a little bit about me :)
Where did the name of the site come from?
A lot of you might know me from Specktra or Livejournal. My user name on both sites happens to be Krasevaya Dancer. Krasevaya is the Russian word for beautiful, and dancer comes from the fact that I was a dancer for 14 years. Now for the blog, I wanted to stay true to my roots so I went with Krasey Beauty. Krasey is a derivative of the word krasevaya, and is meant to sound like the word crazy, as in I am crazy about beauty. Fun, right? ;)
Who are you anyway?
I am just a 20 something born and raised in NYC. I currently work in finance, but hope to eventually move on to a more beauty-centric field. I am an avid lover of makeup, beauty, and fashion and I hope to reflect that in my blog. I dabble in everything from styling, to modeling, to freelance artistry as you will come to learn.
What can we expect from the blog?
Anything and everything related to beauty. From swatches, to reviews, to events reporting- I will write about it all! I plan on featuring different reoccurring topics on different days as a bonus too. Being in NYC, I literally have access to anything and everything, and I plan to bring you the scoop with a pretty pink bow on top. Expect lots of pictures, lot of swatches, and lots of ramblings from yours truly.
What are your favorite brands?
Like a butterfly, I flutter from one brand to the next. My current favorites are Make Up For Ever, Illamasqua, Chanel, MAC, Nars, Yves St Laurent, Smashbox, Armani... Awww heck is it safe to say I just love them all? High end cosmetics and skincare are my specialty.
What is your personal makeup style?
On the average day I need to tone it down for the workplace, so you will see me wearing neutral eyeshadow, some bronzer, lipstick, and mascara. Weekends are when I get creative and experiment with different looks. I am no stranger to electric purple and sky blue eyes or hot pink lips. Given all of that though, I have to say my signature look when I have the time to glam it up is an intense smoky eye with pale lip colors (be it nude or pink) and glowing skin.
How did you get into beauty?
My background in performing definitely sparked my interest from early on. Having to get fully made up for shows and competitions, I really began to explore the world of makeup and beauty from an early age. Throughout my teen years I found myself branching out of the brands my sister used, and started delving into the higher end. Sephora literally became my mecca, and it got to the point where I would spend hours researching new products and experimenting with different looks, just for the fun of it. Fast forward to present day. I am an active member of several beauty forums, and am subscribed to several beauty blogs myself. I always like to say that I was a reader long before I was a writer; so I was able to take elements I liked from each site, and hone them to my specifications. I consider makeup my hobby, and practice my artistry whenever I can. Not a day goes by where I don't engage in something beauty related.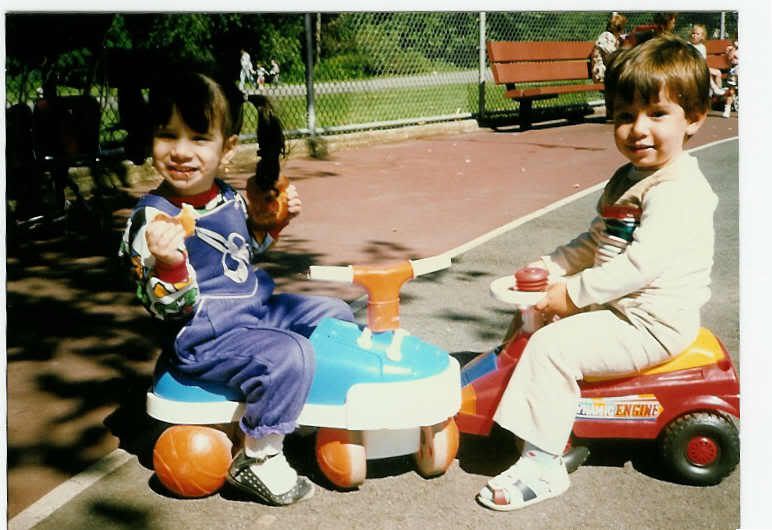 The pic above is is yours truly on the left, before I knew what lipstick was.
Below is one of the many pics from a past dance recital. Diamonds are a girl's best friend is the dance if you must know :o)

Why start this blog?
Because I can? In all seriousness, I always find myself browsing so many wonderful blogs, and I try to make mine stand out in any way that I can. I am just hoping to make my voice heard and to contribute all my knowledge and wisdom with you out there in cyberspace. I know that not everyone has the access I do, and I am hoping to reach out and bring it all to you.
How can I contact you?
You can reach me anytime. Please feel free to email me at: Kraseybeauty@gmail.com
I hope you enjoyed my little intro. Feel free to leave a comment with any others questions you might have ;)
This is the queen of krasey, signing off ;)